一.變化音記號
把固定的音升高或者降低叫「變化音」,用來表示這種變化的符號叫「變音符號」。
這兩種符號都表明符號後面緊跟著的音要升高半個音,或者降低半個音。
這兩種符號表明緊跟在後面的那個音要升高全音或降低全音。
用來表示在它後面的那個音不管前面是升高還是降低都要恢復原來的音高。
(二)變化音的位置:變音符號必須對準所要升高或者降低的音。升號和還原號的斜方孔,降號和重降號的孔,重升號的交叉點。

這表明在這個調(調性以後會講到)裡面標到的音,不管音的高或低,都要固定的升高或者降低。
比如:是 #F #C #G,那麼在這個曲調裡所有的 F、C、G 都要升高半個音。 (如果遇到臨時變音記號以臨時變音記號為準)。
在樂譜中寫在某一個音前面的變音記號叫做「臨時變音記號」,也叫臨時升降號。

這種臨時升降號可以管一小節,在一小節之內有同樣音名的音都要服從第一個變化音,也要跟著變化同樣的音高。
但是這種臨時升降號只有在同一小節之內有效,這一小節之後就不再起作用了,可以說是「鐵路警察,各管一段」。
a) 變音記號可以記在五線譜的「線」上和「間」內。但必須對准後面所要表達的音,才能使後面的音有準確的音高。
b) 升號和還原號都有兩條橫線,這兩條橫線要從左下方向右上方傾斜,並且要比兩條豎線畫得粗一些。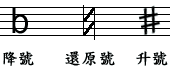 二.小提琴 14 個調性一把位手型圖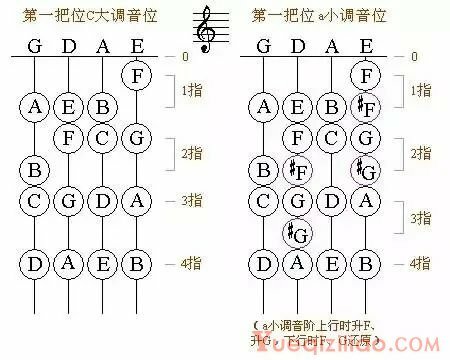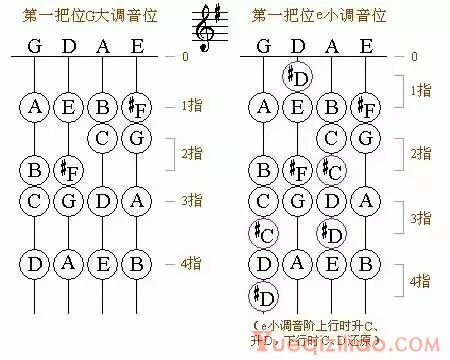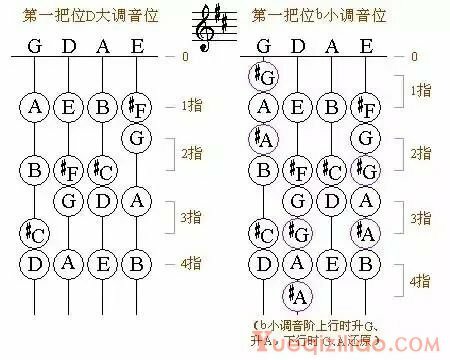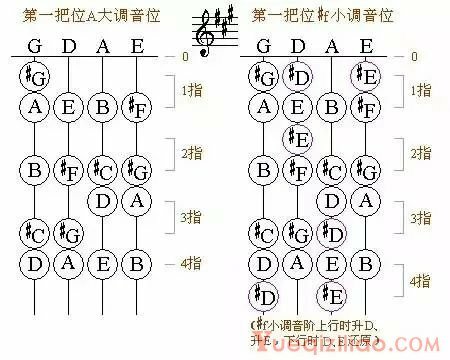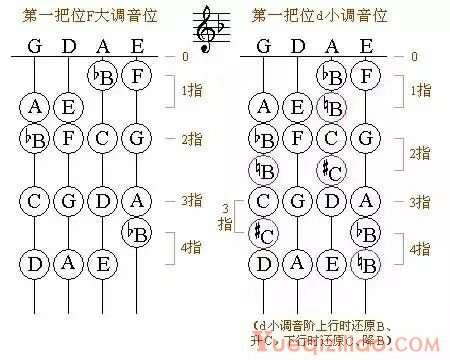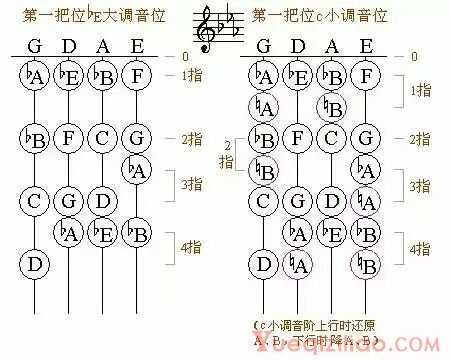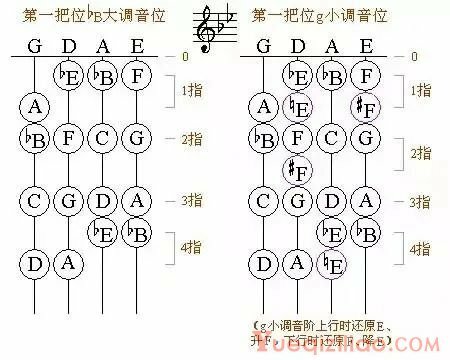 三.小提琴樂譜常見符號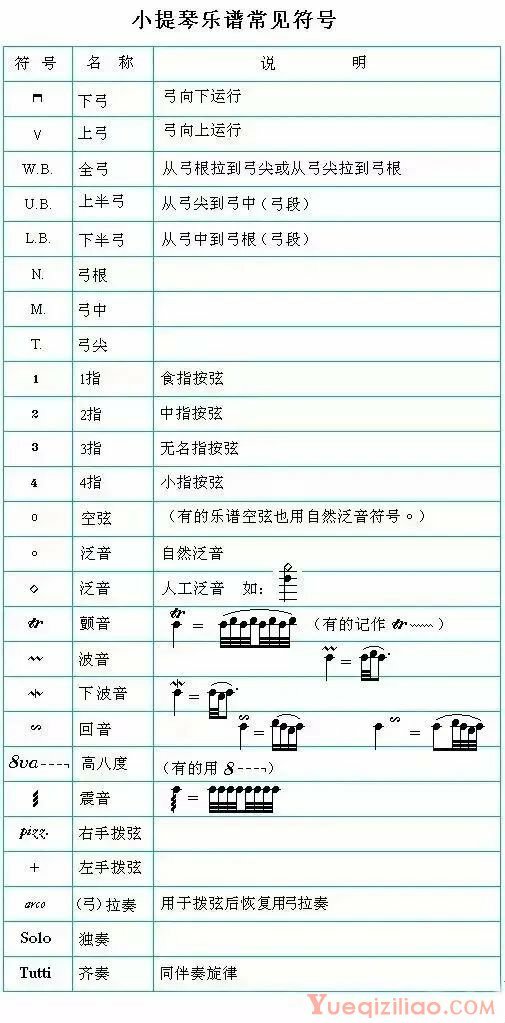 四.強弱記號
mp [意]中弱。 mezzo piano之簡記。
mf [意]中強。 mezzo forte之簡記。
sf [意]突強。 sforzando之簡記。記號為">" 同rinforzando[意],縮寫為rinf
fz[意]特強。 forzando之簡記。記號為">"
crese [意]漸強。 Cresendo之縮寫。
五.速度記號
accel[意]漸快。 accelerando之縮寫。
rit(retard) [意]漸慢。 ritardanto之縮寫。
rall(rallen) [意]漸慢。 rallentando之縮寫
Allegrtto [意]小快板。約108拍/分鐘。
Prestissimo [意]最急板。約208拍/分鐘。
六.弓法記號
G.B. [德]全弓。 Ganzer Bogen之簡記。同whole bow[英]
O.H. [德]上半弓。 Obere之簡記。同upper half bow[英]
U.H. [德]下半弓。 Unter halfte之簡記。同lower half bow[英]
M. [德]中弓。 Mitel之簡記。同middle bow[英]au centre [法]
Sp. [德]弓尖。 Spitze之縮寫。同point或tip[英]Punta[意、西]
Fr. [德]弓根。 frosch之縮寫。同nut[英]talon[法]talone[意]
spiccato [意]控控制跳弓。又稱人工跳弓、擊跳弓。
sautille [法]自然跳弓。又稱彈跳弓。同saltato、saltando[意]
staccat volante [意]飛弓。離弦的連頓弓。
ricochet [法]拋弓。一般用下弓和靠弓尖三分之一的部位演奏。
arpeggiando [意]琶音跳弓。用拋弓演奏分散和弦。
trem [意]碎弓。又稱震音。 remolo之縮寫。
七.表情記號
dolcissm0[意]極其柔和的,甜菜美的。溫和的。
esprssivo[意]有表情的,有表現力的。有時縮寫為espres
largando[意]逐漸變寬廣,通常指漸慢而漸強。
tranquillo[意]寂靜的,安靜的,平靜的。
cantabule[意]如歌唱般抒情、流暢、圓潤。
agitato[意](1)激動的、(2)相當快的。
appassionato[意]熱情地、熱心地、激情地。
marcato[意]強調的,著重的,加重的。同markirt[德]、marquez[法]。
ad lib[意、拉]隨意處理。 ad libitum之縮寫。
Calmando[意]平靜地。同calme[法]、calm[英]。
pesante[意]沉重有力的,有分量的,給人以深刻印象的。
amabile[意]可愛的,親切的,和藹的,慈祥的。
veloce[意]迅速地,敏捷地。同veloita[意]。
vigoroso[意]精力充沛的,朝氣蓬勃的,剛健的。
rigorso[意]嚴格的,嚴謹的。主要用於拍子的準確性。
vivacissimo[意]極其活潑地,生動地;極其活潑的活板。
affettuoso[意]富於感性的,深性的,多情的。
八.樂曲類型
  major[英]大調的。同maggiore[意]、dur[德]。
  minor[英]濁調的。同minore[意]、moll[德]。
  var1[英]第一變奏曲。 Variation1的縮寫。
  March[英]進行曲。同Marcia[意]、Marche[法]。
  Recitative[英]宣敘調,朗誦調。節奏較自由。
九.演奏方法
  senza[意]繼續按以前的表情、力度、弓法、指法演奏。
  gliss[意]滑奏。 glissando之縮寫。
  ten[意]保持音量和時值。 tenuto之縮寫。
  sosten[意]綿延。每個音奏足時值。 sostenuto之縮寫。
  attacca[意]緊接,指相鄰樂章之間不停頓地接著演奏下去。
  sul ponticllo[意]用弓在靠琴碼處演奏;發音薄而清脆。
  sud tasto[意]用弓在靠指板處演奏,發音柔和。
  oct[意]寫在音符上方表示奏高八度。同ottava[意],簡記為"8va"或"8"。
*************************************************************************************************************************
The symbols used to indicate this change are called "change notes".
(a) There are five types of mutation symbols.
Both of these symbols indicate that the note immediately following the symbol should be raised or lowered by a semitone.
These two symbols indicate that the note immediately following the symbol should be raised or lowered a whole tone.
* A whole tone is a major second and a semitone is a minor second.
The "♮" restores the original pitch of the note after it, regardless of whether the preceding note is raised or lowered.
(b) Change the position of the note: The change sign must be aligned with the note to be raised or lowered. The hole of the diagonal of the ascending and reducing sign, the hole of the descending and re-descending sign, and the intersection of the re ascending sign.
(c) There are two uses of the altered note: the key signature
One is written at the end of the clef, and is also called the "key.

This indicates that the tones marked in this key (the tonic will be discussed later) are to be raised or lowered in a fixed way, regardless of whether they are high or low.
For example, if the key is #F #C #G, then all the F, C, and G notes in the tune must be raised a half tone. (If there is a temporary change in the notation, the temporary change in the notation shall prevail).
The note that is written in front of a note in the score is called a "temporary change mark", also called a temporary ascender or descender.

2. This indicates a temporary change in pitch for this note.
This type of temporary mark can be used for one measure, and all the tones with the same name in the measure must follow the first pitch change and change their pitch.
There is no need to draw the same symbols in front of it.
However, this temporary symbol is only valid within the same bar, after this bar it no longer works, so you can say that it is "railroad police, each in charge of a section".
3. Points to note when writing the variation marks.
a) You can write the notation on the "line" and in the "interval" of the pentatonic score. However, it must be aligned with the tone to be expressed later in order to give the exact pitch of the subsequent tone.
b) The ascending and reverberating symbols have two horizontal lines, which are slanted from the lower left to the upper right, and are drawn thicker than the two vertical lines.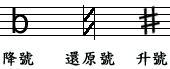 2.Violin hand diagram in 14 keys and one position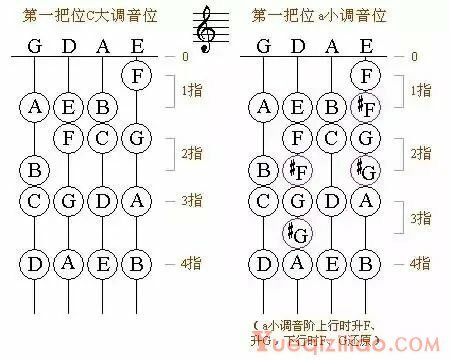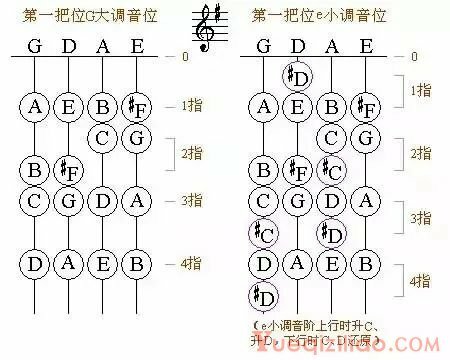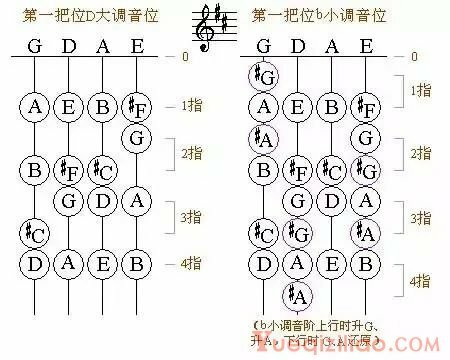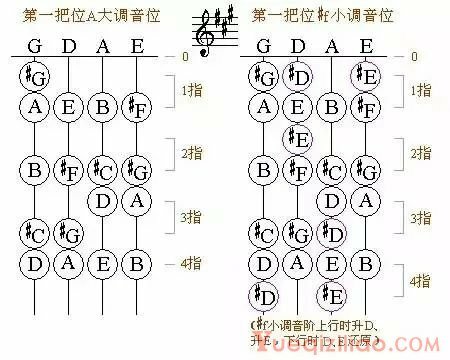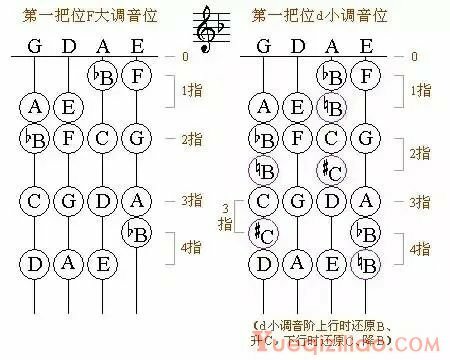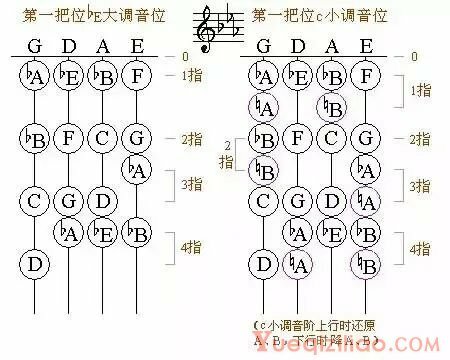 3.Common symbols in violin music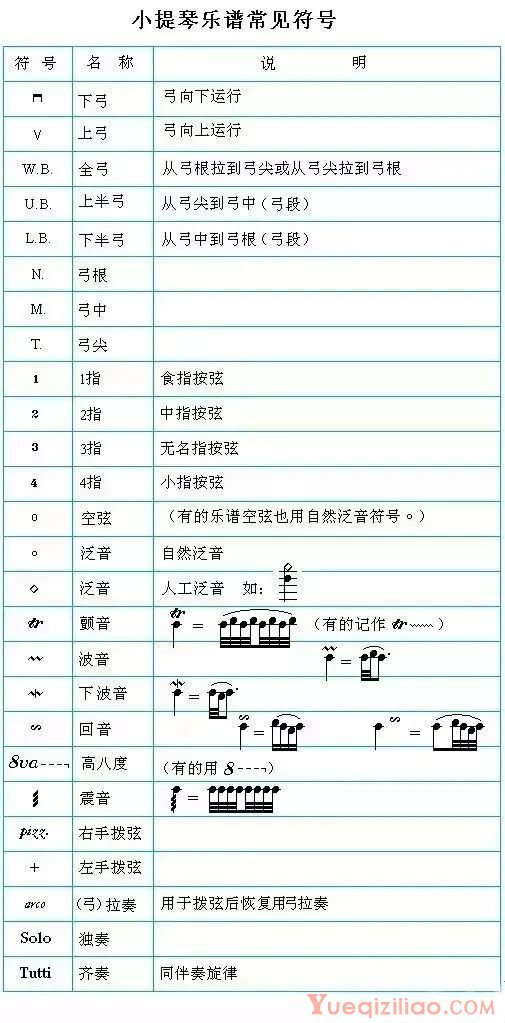 I. Strong and weak notation
pp [meaning] very weak. Shorthand for Pianissmo.
P [meaning] weak. Shorthand for Piano.
mp [meaning] medium-weak. Short note for mezzo piano.
mf [Italian] Medium strong. Short note for mezzo forte.
f [Italian] strong. A short note on forte.
ff [meaning] very strong. Shorthand of fortissimo.
sf [meaning] suddenly strong. Shorthand for sforzando. The notation ">" is the same as rinforzando [meaning], abbreviated as rinf
fz [Italian] extraordinarily strong. Shorthand for forzando. The notation is ">"
crese [meaning] to grow stronger. Abbreviation of Cresendo.
dim [meaning] gradually weaker. The abbreviation of diminuendo.
accel [meaning] to become faster. The abbreviation of accelerando.
rit(retard) [meaning] gradually slow. The abbreviation of ritardanto.
rall(rallen) [meaning] gradually slower. Abbreviation of rallentando
riten [meaning] to abruptly slow down the abbreviation of ritenuto.
atempo [meaning] original speed. Restore to the original speed.
Grave [ie] Shojo. About 40 beats per minute.
Largo [Italian] wide board. About 46 beats/minute.
Lento [Italian] Adagio. Approximately 52 beats/minute.
Adagio [Italian] Adagio. Approx. 56 beats/min.
Andante [Italian] march. Approx. 66 beats/min.
Moderato [Italian] Alto. Approx. 88 beats/min.
Allegrtto [Italian] Allegro. Approx. 108 beats/min.
Allegro [Italian] Allegro. Approx. 132 beats/min.
Vivace [Italian] Allegro. Approx. 160 beats/min.
Presto [Italian] Allegro. Approx. 184 beats/min.
Prestissimo [Italian] most urgent board. Approximately 208 beats/minute.
pizz [Italian] pizzicato.
up bow. The notation is "∨"
down bow. The notation is "∩"
G.B. [German] Full bow. Short form of Ganzer Bogen. Same as whole bow [Eng].
O.H. [German] Upper half bow. Shorthand of Obere. Same as upper half bow [Eng.]
U.H. [German] Lower half bow. Short note on Unter halfte. Same as lower half bow [Eng.]
M. [German] Middle bow. Short note on Mitel. Same as middle bow [E] au centre [F].
Sp. [German] Bow tip. Abbreviation for Spitze. Same as point or tip [E]punta [I, S].
Fr. [De] Bow root. Abbreviation of frosch. Same as nut [Eng] talon [F] talone [Ital]
legato [Italian] to link with a bow. Continuous and smooth.
portato [Italian] wave bow. Between legato and staccato.
spiccato [Italian] Controlled jumping bow. Also known as artificial jumping bow, percussive jumping bow.
sautille [French] Natural jumping bow. Also known as bouncing bow. Same as saltato, saltando [Italian]
staccat volante [Italian] flying bow. Off-string stringed bow.
ricochet [French] throwing bow. Usually played with the lower bow and against the tip third of the bow.
arpeggiando [Italian] Arpeggiated skipping bow. Dispersed chords played with a throwing bow.
trem [lit. "broken bow"]. Also called tremolo. Abbreviation of remolo.
dolce [meaning] soft, sweet, gentle.
dolcissm0[意]极其柔和的,甜菜美。 gentle.
esprssivo[意]expressive, expressive. Sometimes abbreviated to espres
largamente [meaning] broadly, solemnly.
largando [meaning] to become progressively broader, usually in a slower and stronger sense.
tranquillo[意]寂静的,安静的,平静的。
cantabule [meaning] to sing lyrically, smoothly, mellowly.
animato [meaning] vibrant, lively, active.
risoluto[意]decisive, resolute.
agitato[意](1)激動的,(2)相當快的。
appassionato[意]passionately, enthusiastically, passionately.
marcato[意]意着强调的,重重的,加重的。 Same as markirt[德], marquez[法].
ad lib [Italian, la] to deal with at will. Abbreviation of ad libitum.
assai [Italian] very, very, extremely.
mesto [Italian] melancholy, sad.
Avipso [meaning] songfully, gracefully, like an aria.
Calmando [Italian] calmly. Same as calme [French], calm [English].
energico [Italian] forcefully, decisively.
ttcon tua [lit.] with all one's might, to the utmost.
calando[意]gradually softer and slower.
volante [lit. "like flying"], "light", "swift".
pesante[意]heavy, powerful, weighty, impressive.
giocoso[意]happy, playful, gray.
amabile[意]可愛的,親切的,和藹的,慈祥的。
religioso [meaning] devout.
drammatico [Italian] dramatic.
veloce [lit.] quickly, agilely. Same as veloita [lit.]
posaro [lit.] steadily, peacefully.
vigoroso [meaning] energetic, vigorous, vigorous.
rigorso [meaning] strict, rigorous. Mainly used for the accuracy of the beat.
vivo[Italian, Spanish] Vibrant, energetic.
vivacissimo [Italian] extremely lively, vividly; extremely lively on a live board.
affettuoso[意]富於感性的,深性的,多情的。
brio [Italian] vitality, vitality.
brillante[意]brilliant, dazzling.
comodo [Italian, Western] comfortable, at ease.
melodioso [Italian] melodious, beautiful.
  major [Eng] major key. The same as maggiore [Italian], dur [German].
  minor [English] turbid. Same as minore [Italian], moll [German].
  melody [Eng] melody, tune.
  Op [la] Opus. Abbreviation of Opus.
  Variation [Eng] Variation [Eng] Variation.
  var1[E] Variation 1. Abbreviation of Variation1.
  Scherzo [Italian] Scherzo.
  Fantasia [Italian, Spanish] Fantasia.
  Humoresque [FR] Humorous song.
  Romance[FR] Romantic song.
  Ballad [E] narrative tune.
  Walzer [German] Round Dance.
  Introduction [Eng] Introduction.
  Tarantlla [Italian] Tarantella.
  March [Eng] March. Same as Marcia [Italian], Marche [French].
  Sonatina [Italian] Little Sonata.
  Impromptu [FR] improvisation.
  Moto perpeuo [Italian] infinite movement.
  Ciaccna [Italian] Chaconne.
  Sarabnde [FR] Sarabande [FR] dance song.
  Giga [Italian] Gigue [Italian] dance music. Same as Gigue [Eng].
  Allemande [FR] Allemande.
  Corrente [Italian] Curante.
  Polonaise [FR] Polonaise, Polonaise.
  Siciliano [Italian] Sicilian dance.
  Serenade [Italian, English] Serenade.
  Recitative [Eng] Recitative, recitative. Rhythm is more free.
  Divertmento [Italy] playful song.
  can sorcdino [Italian] with a weak voice.
  senza[意]Continue to play according to the previous expression, strength, bowing and fingering.
  segue [meaning] to play on with the same technique.
  gliss Abbreviation of glissando.
  D. C. [Italian] Play from the beginning to the end of Fine.
  ten [meaning] to maintain volume and timing. The abbreviation of tenuto.
  sosten [meaning] to sustain. Each note is played in full time. The abbreviation of sostenuto.
  subito [meaning] suddenly, immediately.
  semasi [meaning] to keep, to keep.
  attacca [lit. to play immediately, to continue without pause between adjacent movements.
  sul ponticllo [lit.] to play with the bow against the yard; thin and crisp sounding.
  sud tasto [lit.] played with the bow against the fingerboard; soft sounding.
  ord [lit] to resume regular playing.
  The oct is written above the note to indicate a higher octave. Same as ottava [Italian], abbreviated as "8va" or "8".
  position [E, F] to put in position.