插電(電木吉他) 的用途是可以在表演使用,但新手的狀況常常是買回去幾乎沒有機會使用。其實木吉他插電功能可能後加裝的,因此有需要表演時去安裝即可,這樣就能夠在同一預算內買更好的吉他
_________________________________________________________________________________________________________________________________________________________________________________
Many beginners are worry about buying the first guitar. They don't know how to choose from different guitars, and they are afraid of buying a guitar that is not suitable for them or has problems.
The following five points can help you understand the guitar better and let you avoid these tragedies as much as possible.
1. Purchase budget
There are beginners who are afraid of learning soon, so don't buy more expensive guitars, but a good guitar can accompany you for a long time. Everyone's financial ability is different, so the budget is also different. It is recommended to set a maximum affordable budget before purchasing the guitar you need.
Generally speaking, guitars of about $1500 HKD have relatively stable quality in the current market.
It is not recommended to buy a particularly cheap guitar, because sometimes the lack of product quality monitoring can lead to different problems: panel deformation, lifting of the bridge, deformation of the neck, etc.
2. Body size and appearance (shape)
Figure considerations
Is the size of the guitar suitable for your body?
There are many sizes of guitars to choose from. For taller friends, it is relatively reasonable to use a larger guitar.
Finger considerations
Do you feel comfortable with the height of the string pitch and the feel of the string pressing?
If you get a guitar that is too big or too small, it will be uncomfortable to play. In order to avoid this problem, you can refer to the following suggestions and make a more appropriate choice when your budget is limited.

(Source: https://ysolife.com/10-tips-choosing-right-acoustic-strings1/image006-80/)
Tall people suitable: Dreadnought (D), Jumbo (J)
Normal people suitable: Orchestra Model (OM), Grand Auditorium (GA), Small Jumbo (SJ)
Relatively smaller people suitable: travel guitar Parlor, 00, 000
3. What is [Solid board] [plywood]?
Solid board, the wood grain is clearly visible, and the panel corresponds to the cut surface grain
Plywood, the obvious form of plywood, the grades are divided into solid wood plywood and wood particle plywood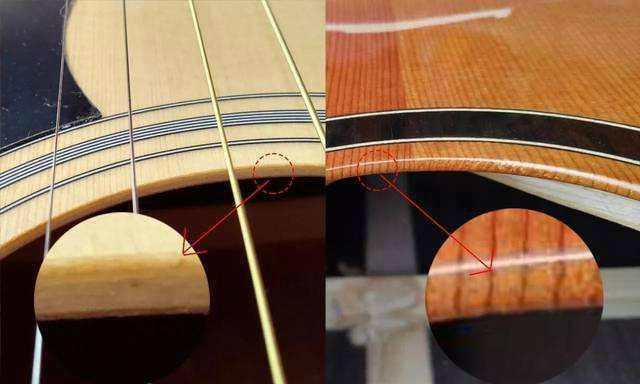 Left: Plywood ; Right: Solid
(Source: https://ppfocus.com/0/ef49031.html)
Plywood guitar: In fact, it is a three-layer board sandwiched with poor quality wooden boards or even wood chips. The resonance is weaker than solid wood.

Solid Top guitar: the panel is made of solid wood, and the back and side panels are made of plywood

All Solid guitars: all are made of solid wood

Top-back Solid guitar: less common, that is, the top panel and back panel are made of solid wood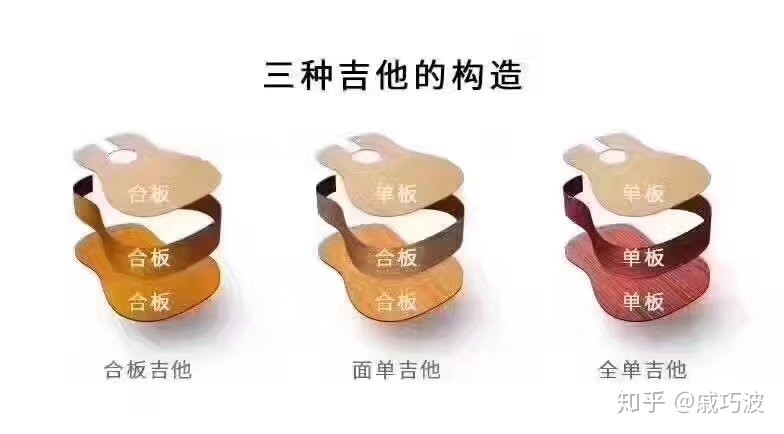 Left: Plywood guitar; Middle: Solid Top guitar Right: All Solid guitar
(Source: https://zhuanlan.zhihu.com/p/106295609)
4. Plug in
The plug-in (electric-acoustic guitar) can be used in performances, but novices often have little chance to use it when they buy it back. The plug-in function of the solid wood guitar may be installed later, so you can install it when you need to perform, so that you can buy a better guitar within the same budget
5. Wood
In addition to affecting the sound of guitar wood, each type of wood also has its own unique color. The following three common woods: spruce, mahogany, and acacia
Other commonly used woods include red pine (cedar) for classical guitars, or sapele, basswood, maple, etc., which are used on ukulele
Spruce
Yellow, the tone is brighter.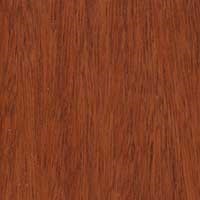 Mahogany
Orange-red, the tone is more mellow (mellow)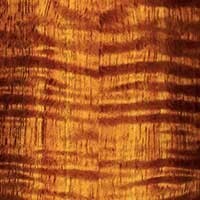 Acacia
Obvious lines, mellow tone, better penetration
The barrel and neck of each guitar have different thicknesses, widths and narrowness, and the feeling of holding them is different. These factors will affect the comfort when playing, and also affect the willingness to learn. The first guitar is especially important.
So after you understand your needs for cleaning yourself, you can seek advice from the store to make your purchase process easier!
Six Months Rebellion Music offers a variety of high-character acoustic guitars visit now