(Source: https://classicalguitarmagazine.com/lesson-use-giulianis-studies-to-increase-right-hand-development/)
What is Fingerstyle?
Fingerstyle Guitar is a genre of guitar solo. One guitar can play multiple parts or voices.
Fingerstyle can literally guess that it is actually played with fingers. Simply speaking, as long as it is not played with Pick, it can be summarized as Fingerstyle, so classical guitars and folk songs can be broadly called Fingerstyle.
In addition, American blues music and country music all use this technique, and later rock and metal guitarists in Europe and the United States also use fingerstyle accompaniment or songs.
However, in a narrow or current definition, Fingerstyle generally refers to modern steel-string guitar performance (fingerstyle guitar). Most of the repertoires played are mainly modern and less classical. Percussion and brushing are added to the playing technique.
How to get started with fingerstyle?
You can refer to the following directions to get started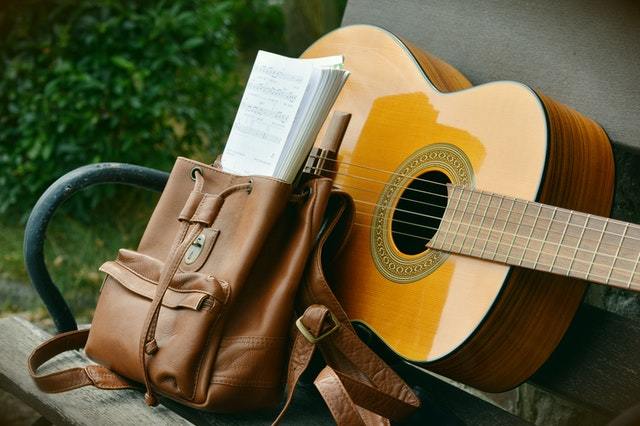 The first stage: learn basic guitar skills
Generally speaking, if you are just starting to learn guitar, it is not recommended that you learn it.
Fingerstyle, because your foundation is not solid, it will be very painful to learn fingerstyle, frustration is great, and progress will be very slow.
Finger-playing the guitar is relatively difficult all the time.
Before you learn fingerstyle, the basic skills you need to learn:
1. Basic chords and methods
2. Basic accompaniment fingering and brushing
3. Basic hammer on, Pull off and Slide
4. And understand guitar tabs
Nowadays, many guitar scores are published in the form of staves plus guitar tabs, so it is absolutely necessary to learn how to read guitar tabs before learning fingerstyle.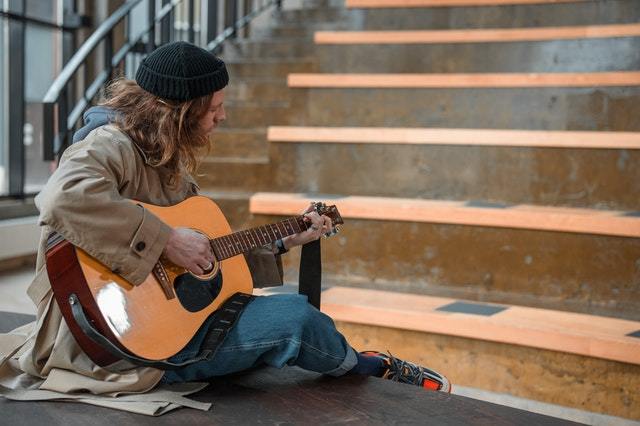 The second stage: exercise the flexibility of the left and right hands
Fingerstyle's performances have very high requirements for the flexibility of the left and right hands, and are completely different from common guitar accompaniment in level.
When an ordinary singer has a guitar accompaniment, the audience will focus on the singing, so it may not be noticed that the guitar is not well played.
But when you are playing fingerstyle, all the audience's attention will be on your guitar performance, as long as there is a slight flaw or mistake, it will be very obvious.
The training for the left hand and the right hand is different:
The left hand is mainly for training finger expansion, finger strength and finger sensitivity.
To train the left hand, you can do some basic finger expansion exercises, then practice scales, and perfect practice against the beat(metronome)
Example (left hand exercise)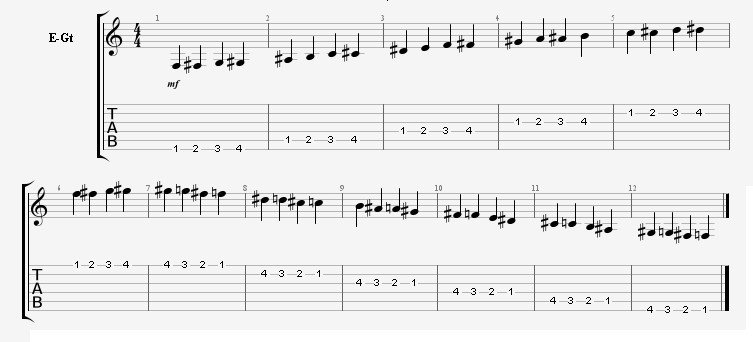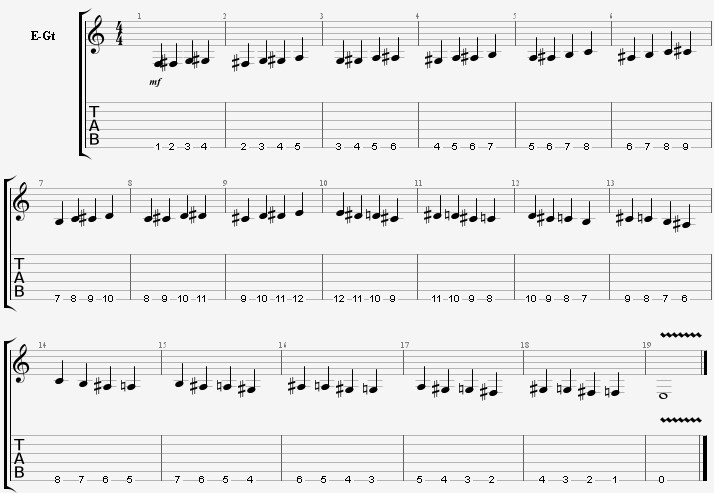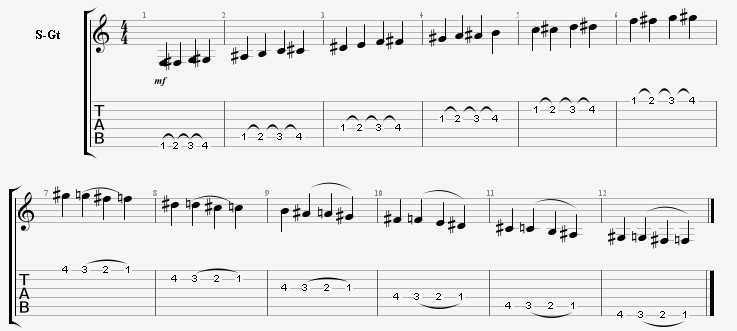 (Source: https://www.cmusict.com/free-music-learning/electricguitarlesson1/)
The right hand is to train the strength and plucking angle, as well as sensitivity.
The training of the right hand focuses on mastering the accuracy and stability of dynamics and beats
Example (right hand exercise)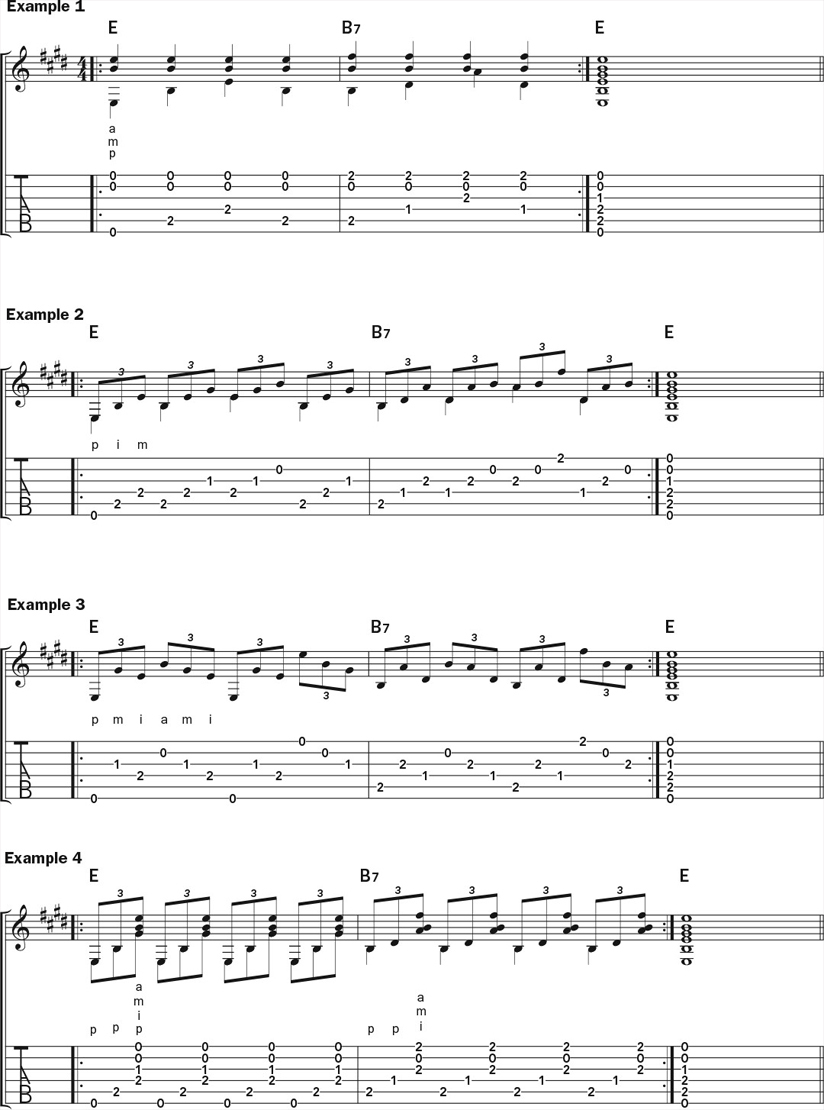 (Source: https://classicalguitarmagazine.com/lesson-use-giulianis-studies-to-increase-right-hand-development/)
The third stage: learning songs
When you have been practicing basic skills for a while, and you have a certain degree of flexibility in your left and right hands, you can start practicing some songs.
It is recommended to practice some music composed or arranged by fingerstyle players.
Because most of the repertoires of performers will be better arranged, and you can learn a lot from it, it is worth your time to practice.
Kishibe Masaaki is one of the performers worth recommending. He has some repertoires that are suitable for beginners, such as "Flower", "Drifting Cloud", "Miracle Mountain", "Time Travel" and so on.
Kishibe Masaaki – "Flower"
Some famous guitarist such as Korean Guitarist Sungha Jung used a gliding capo for transposing a song's key during the performance seamlessly:
You can also play like him if you have this gliding capo.
To practice the complete repertoire:
1. Listen to the repertoire you are practicing
2. Segmented practice allows you to stabilize the entire song instead of starting from the beginning every time
3. Practice continuously and regularly, practice for approximately 45 minutes or more every day for a month or two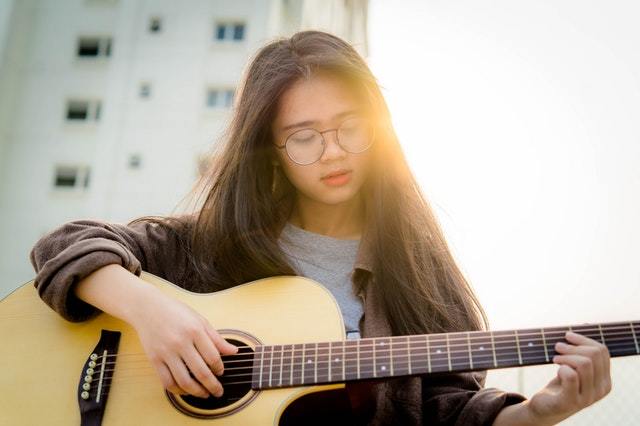 Finally, encourage those who are interested in learning Fingerstyle. If you want to learn something, you must persist and be patient, because it takes a certain amount of time and repeated boring exercises to study a skill.